Reactive notebooks for R
This is experimental software. There are bugs, and the API is liable to change without maintaining backwards compatibility.
What is it?
Reactor notebooks are collections of cells containing R code. When you update a cell, all of the cells that reference it are automatically updated, like how a spreadsheet works. Reactor notebooks integrate R code, plots, HTML, and markdown into one document.
Reactor notebooks are useful for prototyping code and exploring subjects through interactive visualizations.
Reactor notebooks can be shared online as Shiny applications. You can play with an example notebook which is available online through Shiny.
Demo video
The demo video on YouTube shows how to use Reactor to build a simple interactive notebook: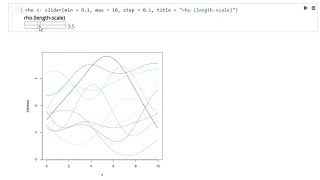 Getting started
Install and load reactor:
Create a new notebook and launch the Reactor server:
Save progress and stop the server:



# Save progress




notebook

$

save

(

"./notebook.rds"

)





# Stop server


stop_reactor

(

server

)
Load the notebook later to start where you left off:



# Load notebook




notebook

 

<-

 

ReactorNotebook

$

load

(

"./notebook.rds"

)
Reactor includes an example notebook:
You can also see and interact with the example notebook running as a Shiny application.
And more
View documentation in a side panel by calling it up from a cell (e.g. ?lm) or the shortcut Ctrl-Shift-?.
Export notebooks to R scripts, with the cells rearranged to run from top to bottom.